SE UCH
Askhults Doreen O'Quinn
Photo: Birgitta Thörnqvist
18/06/2010
Eyes checked without signs of any disease.
Heart checked with ultrasound without signs of any disease.
Doreen is from our fourth Wolfhound litter and Brianagh's first litter. She has been shown and become BOB and BIS-3 baby. At the Wolfhound Speciality in Mullsjö 2011 she was placed as 4the best bitch and BIS-junior. At her first official show she won a CC and was 3rd best bitch. In her fourth show she won her second CC and became 2nd best bitch. She won her third CC from intermediate class. Her fourth and qualifying CC came only 2 weeks after her 2nd birthday. She also has one German VDH.
Doreen won BIS at the Irish Wolfhound main Speciality, IBF, 2013. 102 Wolfhounds were entered.
Doreen was the Top Winning Wolfhound Bitch 2013.
Doreen is the mother of our F-litter.
Magh Itha's Goya (1 CC, 2 LC-CC)

Hammond Surycan (1 CAC)

Alva Surycan

Xana v Schloss Neuschwanstein

Magh Itha's Hatshepsut


Magh Itha's Charming Cecar

Magh Itha's Colleen

Askhults Brianagh O'Duffy (LC-license)

Knallåsen's Nereus (2 CCs)

SE UCH Knallåsen's Kretheus
Knallåsen's A'nnwyn (2 CCs)

SE UCH NO UCH

Askhults Ailish O'Connor

INT UCH NORD UCH KBHV-01 Wolfhouse Melody Maker
Royal Tramp's Lady Deborah Duinseac
| | |
| --- | --- |
| Magh Itha's Goya | Askhults Brianagh O'Duffy |
Doreen BIS Irish Wolfhound Speciality IBF 2013
Irish Breed Festival and the Irish Wolfhound Speciality 2013. From the left:
BOS and BIS-4 CH Riverwolf Roger Federer and BOB and BIS SE UCH Askhults Doreen O'Quinn.
Judges: Tony Redmond and Jim Behan
photo: Lena Niklasson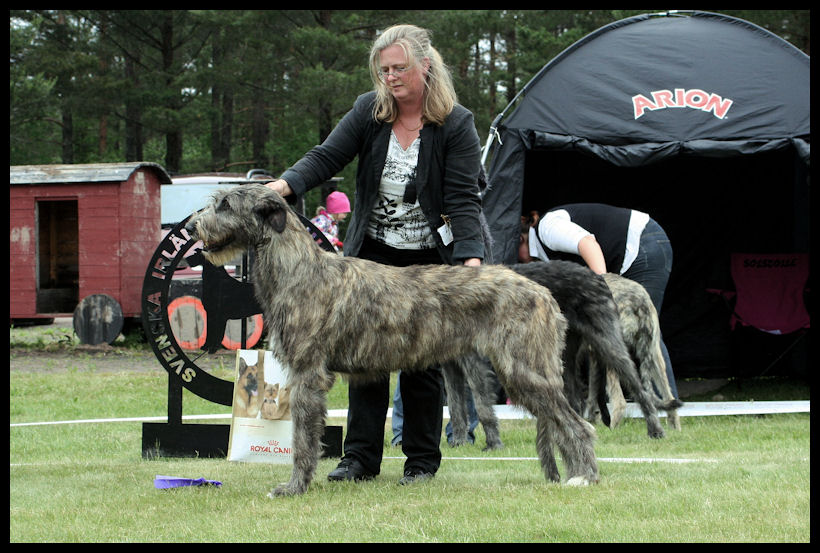 Doreen at SvVK/v Axevalla
© Copyright Charlotte Andersson